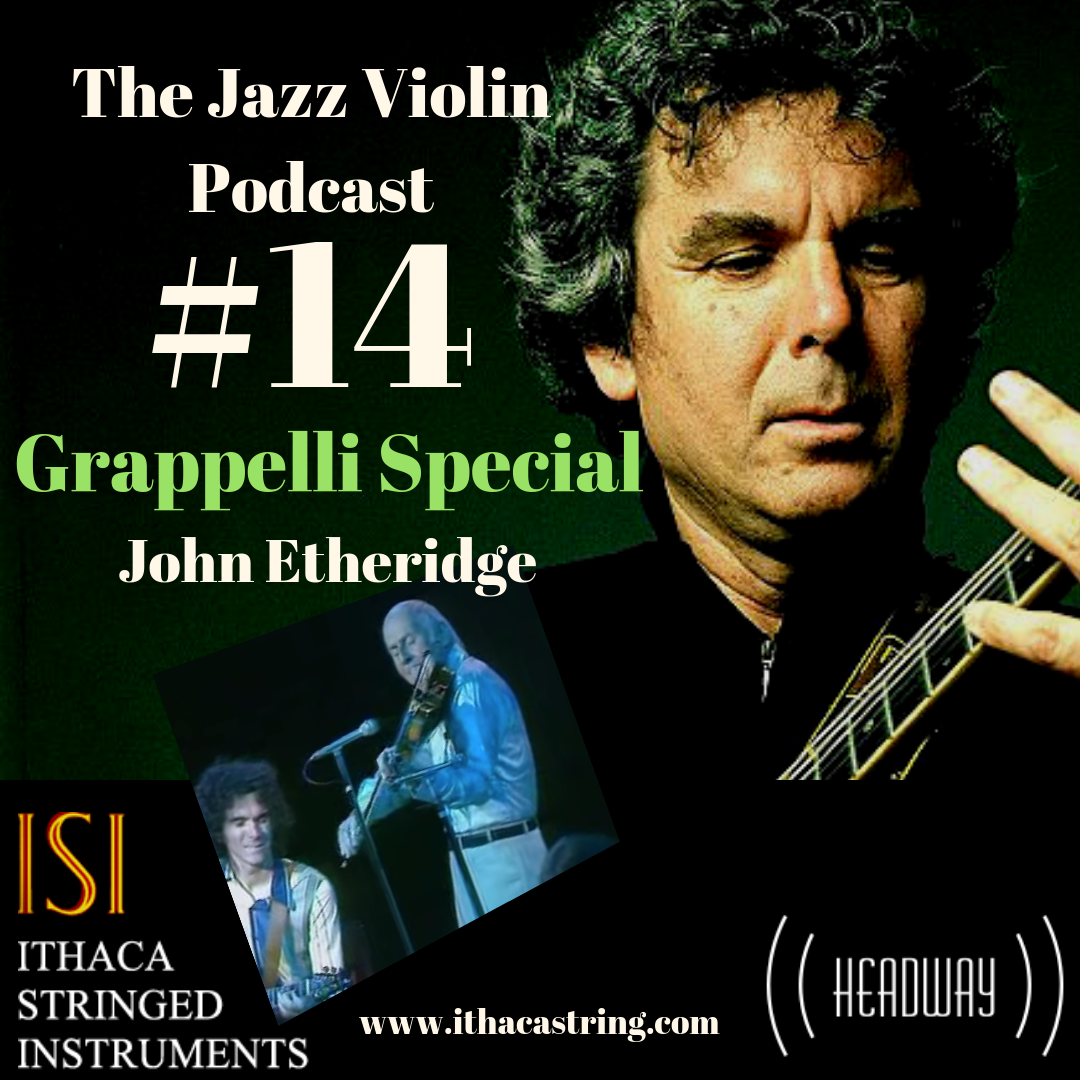 Episode 14 - Grappelli Special with John Etheridge
Mar 14th, 2019 by matt
You can become a patron of the podcast on Patreon by following this link
https://www.patreon.com/Jazzviolinpodcast
Becoming a patron of the podcast means that you are directly helping the podcast continue. This is a chance for you to help out with the running costs of the podcast, if you feel like you get a lot out of my interviews you can be a part of it by donating a small amount of money.
I will be creating one extra monthly show specifically for my patrons where I listen back to previous shows and chat about some key points that my guests bring up. There are so many great ideas and concepts that these amazing musicians bring up and I would like to share with you some of my favourites! This is great for beginner jazz violinists who want a little direction once in a while.
This episode is sponsored by Ithaca Strings and Headway Audio.
Ithaca Strings
Ithaca Strings IS Eric Aceto, a luthier, violinist and producer of the ISI dual pickup system. This system is by far the best and most honest sounding violin pickup system on the market right now! It blends an Electret microphone with a bridge pickup, both attaching to a stereo jack out under the chin rest. This means you get the solid sound of the pick up blended with the sweeter sound of the Electret mic without heavy cables attached to your instrument. Eric also makes amazing instruments and has made both pickups and violins for Jean Luc Ponty, Zach Brock, Matt Glaser and many other amazing musicians.
Headway Audio
https://www.headwaymusicaudio.com/
Headway was founded in the UK in 2006 by John Littler, they make pickups and preamps for string instruments. Most famously they make 'The Band' pickup for violin, viola, cello and bass, which is a very reasonably priced pickup that wraps around the body of the instrument.
They make the amazing EDB2, an acoustic instrument preamp that can blend 2 channels of audio to a balanced output ready for the sound desk. This is perfect for blending a microphone and a pickup on the same instrument, as is needed with Eric Aceto's dual system. The EDB2 also has 5 band EQ, a notch filter and the ability to power each channel differently. Its an amazing piece of kit!
John Etheridge is a guitarist from the UK, he was in the band 'Soft Machine' and was picked up by Diz Dizley to become Stephane Grappelli's lead guitarist between 1976 and 1981. John is a great dude and an amazing player, it was fun to chat with him in his London home about his days with Grappelli and a bunch of other music related stuff too. John has a great way with words and is a natural storyteller. Hope you enjoy.
Share
|
Download(

Loading

)